Tyreek doing Tyreek things (USATSI)You guys just crushed it with great questions this week. I couldn't get to all of them but we have plenty to talk about with the ones I chose.Let's get to [email protected] If the offer was on the table right now, would you take Charlie Weis over Mike Yurcich?— Tyler Ames (@TyAmes93) October 1, 2014No. The insinuation with Weis is that he was just cashing checks Juwan Howard-style up in Lawrence. I can't believe that he'd give any more of a crap about making OSU's offense great for a couple hundred thousand a year than he did about making Kansas decent (just not an abomination!) for a couple mil.Yurcich might not be great (or he might be) but he gives a crap and I appreciate that. I'm still not all in on the Yurcich hate. I need more time, maybe I'll get there someday. But yeah, the only "doesn't really give a crap" person I'm taking right now is Dana because I think "gives no craps Dana" is superior to 80 percent of offensive coordinators in the country. I don't think that about Weis.Plus I'm not sure Joe's can import enough cheese or potatoes to keep the machine churning.Speaking of…@pistolsguy who finishes first: Charlie Weis eating a plate of Eskimo joes cheese fries or Tyreek making a full lap around a football field?— biz (@Tha_BizNasty61) October 1, 2014It's a tremendous question. Tyreek can run a 10ish second 100 which means he can probably run 340 yards in somewhere around 40 seconds. You're cruising if you can house a plate of cheese fries in 40 seconds so I guess I'd go [email protected] with John kolar coming in next year do you foresee any of the qbs transferring?— Kaden McCombs (@KMcCombs2) October 1, 2014Walsh isn't going anywhere, Daxx isn't going anywhere, the Reindeer might. I mentioned this in one of my weekly newsletters two weeks ago (sign up) but I talked to Someone Who Knows Things recently and he insinuated that you shouldn't bet any amount of money on Rudolph staying all four years. For shame if he doesn't, too since I want to wear this baby out: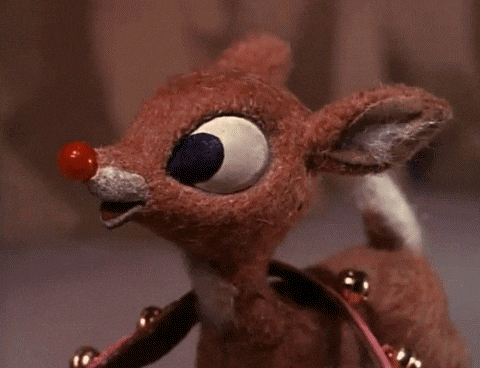 @pistolsguy Does Daxx rival Weeden in arm strength and ability to throw the deep ball? Or is he just a stronger armed Chelf?— Kade Gottschalk (@Kade_G34) October 1, 2014He's Chelf+.[1. The argument being that this was nearly 60 yards in the air!] Weeden was in another class. Weeden was throwing baseballs 96 MPH in his downtime. I think Daxx has a good arm but not an elite one. Weeden's was special.[1. Take this with the saltshaker because I'm more biased towards No. 3 than Gundy is towards No. 4.]@pistolsguy what's your top 3 best seasons of OSU football as a fan? Not necessarily the best teams, but the most fun to watch and follow.— Aaron Schnautz (@HDR_Aaron) October 1, 2014Great question.In order I think it looks like this for me:2011: It might never be topped. 2003: I was a freshman in college this season and. You had the instant classic against Tech, the Rashaun 7-TD game, a seven-game winning streak, great bowl game. The downside was stinkers against Texas and OU. Still, that was just our third bowl game since 1988 and our first legitimate one. Plus…
2008: The best of the Zac-Dez years. OSU got to No. 7 before falling in Austin, Bedlam was memorable if not secretly a blowout, the Holiday Bowl was crazy, and Dez at the peak of his collegiate powers was just an incredible spectacle. @pistolsguy How does HCTF keep luring top recruits to Stilly? Did he attend the OKC black mass??? Will Satan claim his soul one Big Monday?— Mr. Roboto (@mr_roboto73) October 1, 2014I'm scared to [email protected] Please give me what #24/Daxx/WR's/other Pokes would be rated on NCAA 2015 (RIP)— Steven Mandeville (@SRMandeville) October 1, 2014I don't know what everybody else would be but this is what Tyreek's numbers would look like.Speed: LOLAcceleration: See aboveAgility:98Strength: 95Trucking: 93Elusiveness:
https://twitter.com/alexprattt/status/517397362692857856I think you meant would I give Daxx to a Big 10 school to have Stevie back and the answer is Travis Ford couldn't get out of the first round with Marcus Smart at point guard so why would it matter if he had Stevie [email protected] was Wickline a good offensive line coach?— Justin Mitchell (@senyormitchell) October 1, 2014Does Charlie Strong like discipline?https://twitter.com/jamiedonwheat/status/517396610947768321Dana, Weeden, Dez — Dez might have taken an eraser to the Big 12 record books if he'd gotten a 13-game Weeden season. Blackmon was good, really good, Dez was all-time.Dana would have spilled Natty Lights all over room 421 at the Hampton Inn trying to draw stuff up for Weeden and Dez to do on a football field.A shame we missed this by one year.Totally Tickets is your source for Oklahoma State football tickets. If you're looking for the comments section, it has moved to our forum, The Chamber. You can go there to comment and holler about these articles, specifically in these threads. You can register for a free account right here and will need one to comment.If you're wondering why we decided to do this, we wrote about that here. Thank you and cheers!